Enclosed Mobility Scooters
Hello there! You've landed on the right page if you're in search of top-quality enclosed mobility scooters. We understand how important it is to keep living life to the fullest, no matter what. That's exactly why we've carefully selected a range of enclosed mobility scooters  provide the freedom and independence you're looking for. Our enclosed scooters are more than just a mode of transport. They're your companions in every weather, thanks to their enclosed design. We've made sure they're safe, comfy, and easy-to-handle, even when the weather isn't on your side.
Especially designed for our wonderful seniors and those who are living with mobility challenges, our scooters are sturdy, reliable, and yes, they look pretty cool too! We've got a variety of models, because we know everyone's needs are different. Whether you're out for some grocery shopping, catching up with old friends, or just soaking up some sunshine in the park, our enclosed mobility scooters are here to help you do it all in style. So, have a look around, find the perfect match for your lifestyle and get ready to explore your world with newfound freedom. Your search for the perfect ride ends here. Welcome to a new chapter in your mobility story. Enjoy browsing our enclosed mobility scooter collection. Also if you need help ordering or if you have any question don't hesitate too call 888-217-1606 or chat in our live chat for expert assistance.
---
 Q Runner Enclosed Mobility Scooter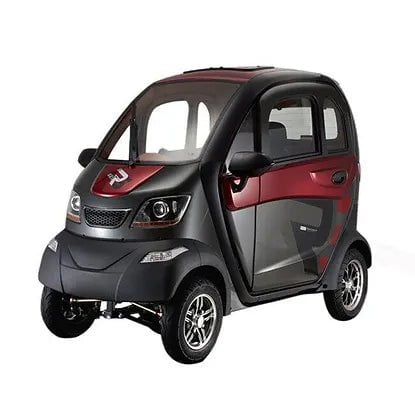 Discover the Convenience and Freedom Of The Q Runner: The Q Runner is really the ultimate enclosed mobility scooter for anyone. The Q Runner comes equipped with a defrosting system so you can stay warm and travel no matter the weather.The Q Runner also has windows that can roll up and down so you can stay cool on a hot day and features a sleek modern design that will turn heads. The Q Runner is also a very reliable scooter that will be there for you rain or shine, 
Specifications:
Speed: 18 mph
Range:25-35 miles
Weight Capacity: 550 lbs
Shop Q Runner Enclosed Mobility Scooter
---
 Shop Rider Flag Ship Enclosed Scooter
Discover the Convenience and Freedom Of The Shoprider Flagship: The Shoprider Flagship is really the most luxury enclosed mobility scooter in the market. The Shoprider Flagship comes equipped with an adjustable suspension and pneumatic tires so it ensures a smooth ride. The Shoprider flagship also can go up to 9,3 mph and has a range of 25 miles so you can cruise arounds town with no issue. This enclosed mobility scooter is perfect for anyone that is looking for luxury in there ride! 
Specifications:
Speed: 9.3 mph
Range: 25 miles
Weight Capacity: 350 lbs
Shop Shoprider Flagship Enclosed Mobility Scooter
---
Filters